A striking, larger-than-life mural installed at the entrance of NRL Cowboys House Boys Campus will pay homage to the first four graduates of the House whilst marking a special new relationship with Downer Group.
Downer Group was officially welcomed as naming partner of NRL Cowboys House Boys Campus at a special launch event and unveiling of the artwork, building on their already strong relationship with the Cowboys Community Foundation through the Waanyi Downer Joint Venture.
The launch was student-led, with seniors Elijah Joe and Kody Rogers welcoming Downer Group representatives, and presenting them with a framed copy of the mural, as a memento of the artwork now proudly on display at NRL Cowboys House.
The mural combines artwork entitled Kadidjiny (Noongar word for learning) by Balladong Noongar woman Acacia Collard and the likenesses of former students Rashaan Gibson (Hope Vale), Krystian Bevan (Mossman), Hakeem Peters (Doomadgee), and Elijah Logan (Normanton).
The four inspirational young men graduated from NRL Cowboys House in 2019 after starting as year 10 students in 2017, within a first cohort of just 25 students.
Another 20 young men have since graduated as NRL Cowboys House swelled to capacity, with the mural a hallmark of Downer Group's commitment to the Boys Campus and its past and future growth.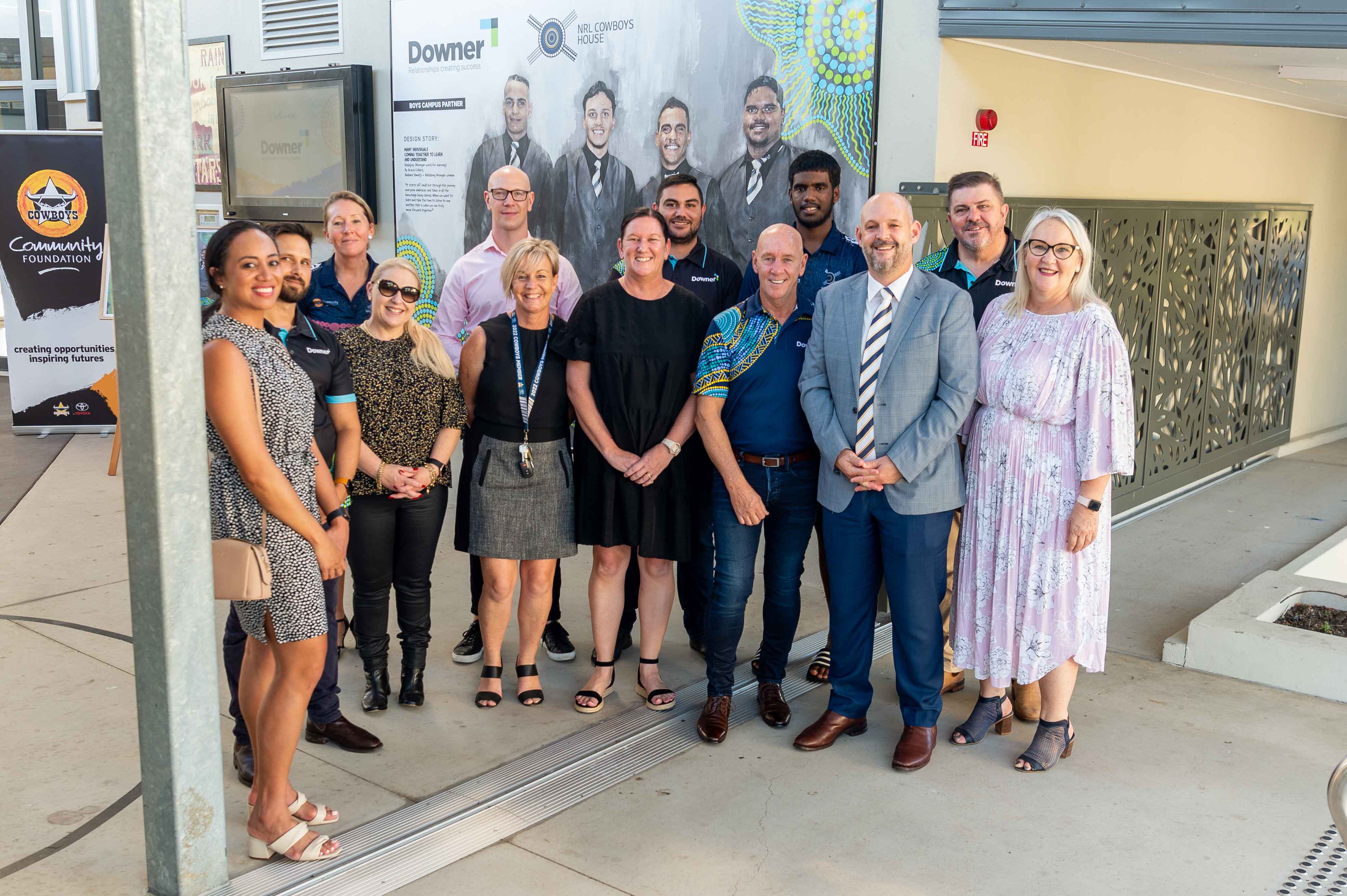 It's a cause close to the heart of Downer Group Indigenous Engagement Manager Ed Groch, who spoke passionately about his own education as an Indigenous student living in community, and how NRL Cowboys House is helping young people in the same position.
"The beautiful thing about this place is the recognition of families, the recognition of communities, and there's a want to keep the students connected to those communities and family," he said.
"That is an amazing thing that happens here, and the opportunity it affords to students, means it only takes a fraction of ambition in community to marry that with the outcomes that can be achieved here at NRL Cowboys House."
Downer Group Manager of Diversity and Inclusion Rebecca Stevenson said the organisation has always embraced opportunities to have a substantial impact on Indigenous communities and Indigenous peoples' lives.
"Our relationship with NRL Cowboys House is a wonderful opportunity for Downer to create meaningful employment pathways for students transitioning into sustainable careers, while being supported from a cultural and community perspective," she said.
"We are committed to seeking innovative career and educational opportunities that are specifically designed to the needs of students as they move into the next stages of their lives".
Representatives from Downer Group also enjoyed a tour of NRL Cowboys House before staying for dinner as part of the House's senior parent information session running concurrently at the venue.
The evening provided an opportunity for the visitors to connect with parents and students, and experience House life at its fullest.
Cowboys Community Foundation director Jeff Reibel said the partnership is pivotal to the ongoing education outcomes for Indigenous boys at NRL Cowboys House.
"This new partnership builds on our already strong relationship between Downer Group, and has already delivered so much success to our students, changing the trajectory for young Indigenous people finishing high school and moving on to brighter futures," he said.
"To look back and see how we've grown, we know our model is working, and to have Downer Group joining us as Boys Campus naming partner, we can now continue to work together to deliver outcomes as one of the leading Indigenous boarding facilities in the country."
Indigenous design story
MANY INDIVIDUALS COMING TOGETHER TO LEARN AND UNDERSTAND
Kadidjiny (Noongar word for learning)
By Acacia Collard, Badimia Yamatji – Balladong Noongar woman
"It starts off small but through this journey everyone embraces and takes in all the knowledge being shared. When we want to learn and take the time to listen to one another, that is when we can truly move forward together."
Mural artwork by Marie Erker